Ristorante Belluccio's: a story of passion with international experience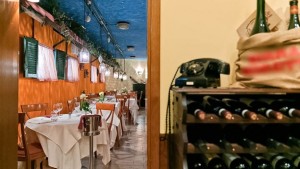 Among the seafood restaurants in Milan, Belluccio's is a point of reference: in our restaurant lovers of fine cuisine based on fresh fish can find seafood salads, tuna fresh, risottos, fresh pasta ..
The restaurant also offers international cuisine enriched by many regional dishes, proposed under the "season". The seasonality of supply guarantees the freshness of all the products and the wide variety of the menu. The best "workhorse" of the local are raw fish, the handmade pasta and homemade desserts. In the "right" moment of the season we propose also mushrooms and truffles, local meat, Chianina and Piemontese, the cut of meat-bone, so as not to miss the classic veal cutlet Milanese.
The kitchen is enriched with lamb chops, grilled sausage and our mixed meat with grilled vegetables and fabulous steaks grilled: how not taste the Osso Buco Milanese veal?
The cellar offers both the best Italian wines, red and white, is the most important foreign brands. Excellent "selection" of French champagne.
About Us
Visit Us
Via Beato Angelico, 27 Milano
Phone: 02730109 - 027490993
E-mail: info@belluccio.it

P.Iva 11935300159


Reservation
Book on line
---
Follow us
Opening Hours
Monday

Closed

Tuesday

12,15-14,30
19,15-23,15

Wednesday

12,15-14,30
19,15-23,15

Thursday

12,15-14,30
19,15-23,15

Friday

12,15-14,30
19,15-23,15

Saturday

19,15-23,15

Sunday

12,15-14,30
19,15-23,15